A well-designed patio or yard comes with many benefits. It provides you with an opportunity to put a personal touch on an important part of your home, making both your family and visitors feel more comfortable in the outdoors. If you decide to sell your house, your patio could appeal to potential buyers, adding more value to the property. 
While there is no doubt that a great patio or yard invites the people staying in the home to spend more time outdoors, benefiting from the advantages of fresh air and sunlight, designing these spaces can be challenging. 
If you are looking for creative ideas for designing your outdoors, this article is for you. 
Use What You Have 
Creating a great patio does not always need to be expensive. Start by looking around to see if there are any items lying around or in storage that you could use.
The idea of using old things to make new ones is known as upcycling. Writing for Reuters.com, Belinda Goldsmith
defines
upcycling as "reusing an object in a new way without degrading the material it is made from, as opposed to recycling which generally involves breaking down the original material and making it into something else, using more energy." 
Lina D is a writer at BoredPanda.com, a digital art and pop culture magazine. She presents some
cool upcycling ideas
you can use in your patio, such as turning old bowler hats into lampshades, tennis rackets into mirrors, a bathtub into a couch, and skateboards into a children's picnic table.  
1. Rekindle the Love with a Romantic Bench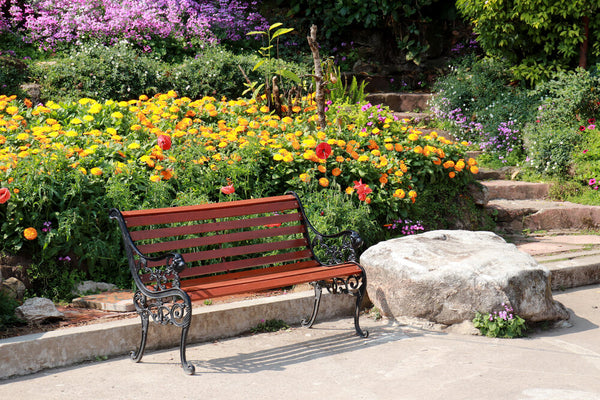 If you have a patio, there is no need to walk to a park just to sit on a romantic bench. You can create your own romantic space by putting a bench in your yard. This idea is perfect if you have a garden with tall trees. 
If you don't have a garden with tall trees, you can still have your romantic bench and put it under a foldable umbrella. All you need is a secluded space where lovers can get their privacy to whisper little nothings to each other. 
2. Save Space with a Vertical Garden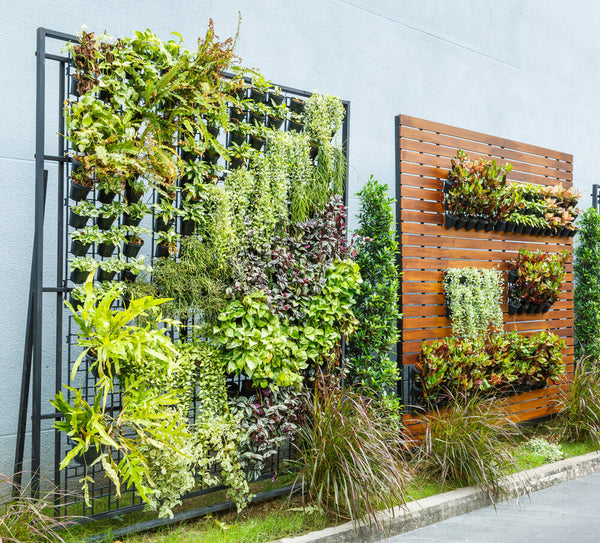 T
he website that delivers health and wellness information, Healthline.com, lists science-backed reasons plants are good for all of us. For example, it
says
that plants can help reduce stress, sharpen attention, help us recover from illnesses, and improve our general outlook on life.  
When it comes to wall plants on your patio, you have several choices. If you are looking for a more permanent solution, you can create a vertical garden. Apart from making your space look great, vertical gardens help save space. You could also reap more benefits if you include edible plants. 
If you want something temporarily, a pocket shoe organizer could be the best place for growing the plants. 
3. Attract Company with a Custom Fire Pit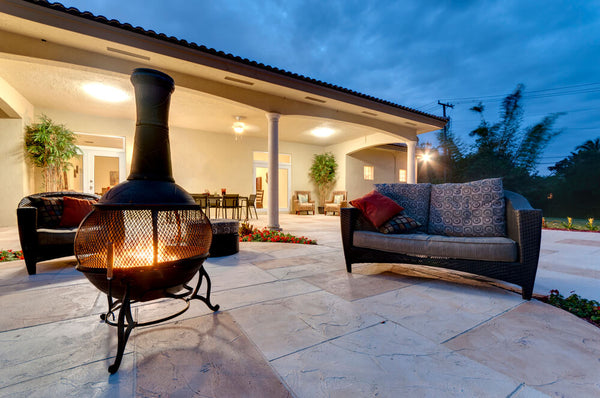 If you want to gather people in a specific place, light a fire. Apart from keeping people warm, an
outdoor fire pit
is a great marvel to watch. This is the reason people sometimes say you don't need a television if you have a fire. 
When designing a fire pit, you need to ensure that it's positioned in place where you can really relax. Do this by getting comfortable benches with cushions and pillows. The idea is to ensure that people can sit around the fire pit no matter how cold it gets.  
Before you purchase and install your fire pit, be sure to check your area regulations to determine any legal issues you need to consider. 
4. Keep It Cool with an Outdoor Shower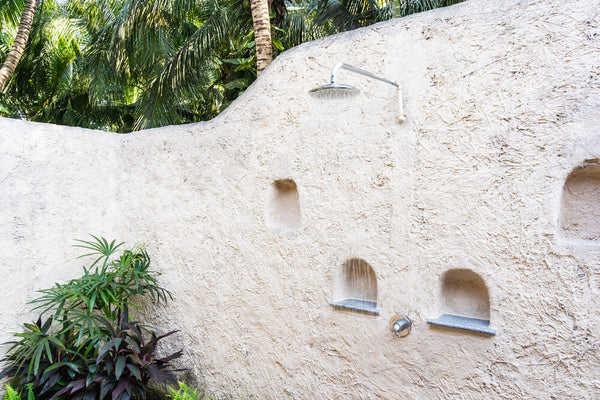 Ask anyone that has ever taken a shower in the outdoors overlooking a lake or other water body on a summer day, and they will tell you that nothing feels better. Depending on the amount of space you have, an outdoor shower can either be permanent or temporary. 
Bob Vila, the television host of various shows, including
This Old House
, 
Bob Vila's Home Again
, 
Bob Vila
, and 
Restore America with Bob Vila,
has some stunning
ideas for an outdoor shower
. Examples range from fully exposed showers to tree shade showers. 
5. Add Sophistication with Fountains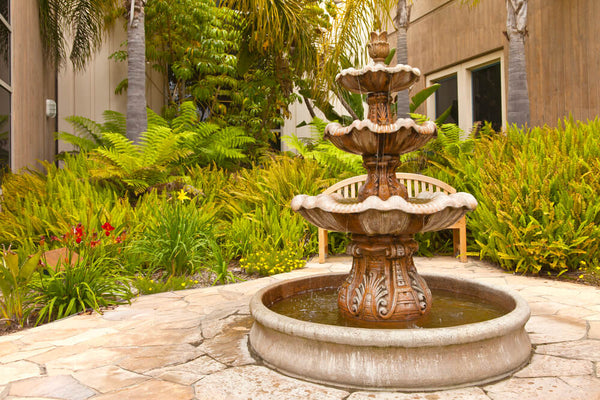 A fountain is a must-have in your patio or yard. If you can't find enough reasons for getting one, we have gathered them for you: 
It creates a relaxed ambiance. 

The sound of falling water lessens unwanted noises.

If you meditate, a fountain can be an altar. 

A water fountain attracts different forms of wildlife, including birds and butterflies. 
6. Fill Spaces with Gravel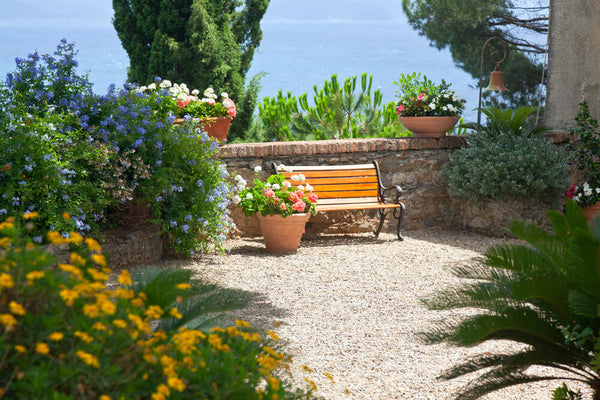 The main advantage of gravel in the patio or backyard is that it is affordable and does not require much maintenance. If you have filled all the other spaces with plants, tiles, or concrete, and there are spaces you don't know what to do with, put gravel in them and see your outdoor space transform. 
7. Create Comfort with Colorful Pillows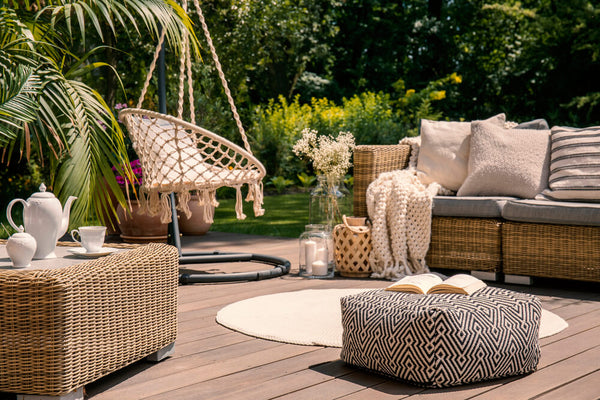 When it comes to decorating any part of a home, pillows are a staple. However, putting pillows on uncovered patios makes many people worried about the elements 
Before buying pillows for your patio furniture, ensure that the fabric is specifically made to withstand the elements. Abe Abbas writes for Spruce.com and
advises
that you should "Make sure you have room to store your outdoor furniture for winter, or at least for storing pillows and other fabric items." 
If you purchase an
all-weather patio set
, all you will ever need is to store the pillows in a covered place during the winter or when not being used. You can then leave the rest of the furniture in place.   
8. Cook Up a Storm in the Outdoor Kitchen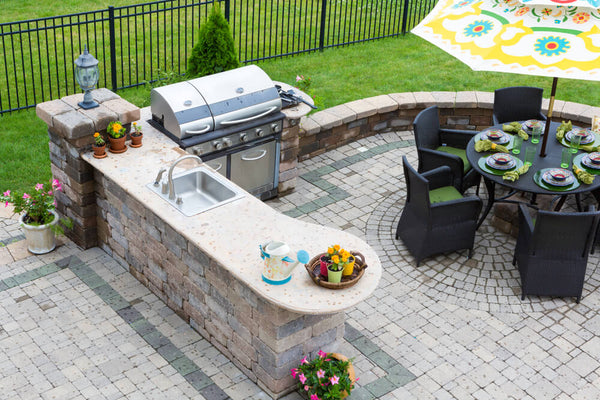 When it comes to outdoor kitchens, the old saying "too many cooks spoil the broth" doesn't apply. This is because the outdoor kitchen provides more space for more people to help in preparing meals. 
It's also a lot easier to clean an outdoor kitchen after preparing a huge meal than it is to clean an indoor one.   
9. Add a Dining Spot for The Family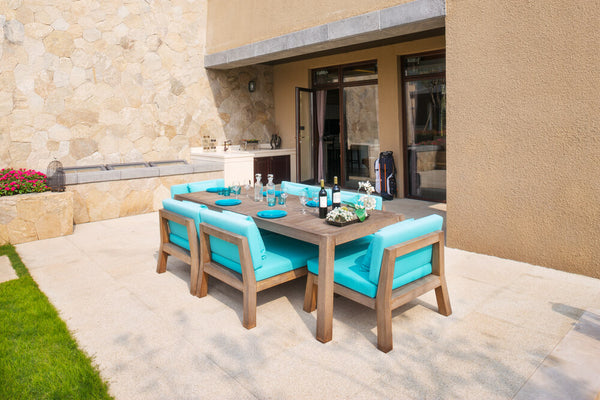 Suppose you love celebrating life, hosting great company, or having family barbecues. In that case, your life is not complete without a dining spot on your patio.  
To create a perfect outdoor dining spot, you need to do your homework first. One of the most critical factors to determine is the location. When you do this, consider your comfort and your guests'. Look for areas where there is shade on sunny days. It should also not be exposed to strong winds. 
It is important to consider the location where the food is cooked. If you are bringing the food from the kitchen, you want to make sure that there are as few obstacles as possible for those carrying the food to the guests. This is why you want to avoid selecting areas where people have to walk over steep surfaces or steps.  
10. Create a Mood with Lighting 
Even though many people take lighting lightly, it is probably the most important design feature we should consider when designing a patio. To understand why lighting is important, let's go back to a bit of biology and talk about circadian rhythms.   
The National Institute of General Medical Sciences
defines
circadian rhythms as the "physical, mental, and behavioral changes that follow a 24-hour cycle." Adding, "These natural processes respond primarily to light and dark and affect most living things, including animals, plants, and microbes." 
Based on the definition above, we note that it's crucial to ensure that the lighting in your patio is appropriate for the time of day when it would be used. You could get a better idea of what you need to do by consulting a lighting designer.  
11. Invite People to Play with a Swing Chair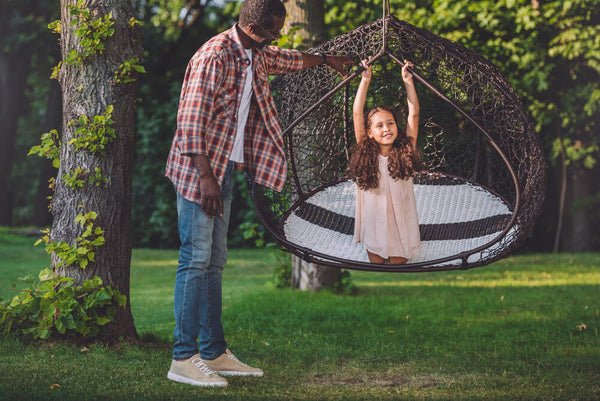 Swinging chairs, also called hanging chairs, in the yard or patio are indispensable if you love comfort. If you have teenagers who like to put on their headphones and listen to music all day, then the swing chair is what you need. 
Teenagers are not the only ones who will love a swinging chair, adults too will find the gentle rocking permitted by the chair a great way to relax. Sharon Cecil presents the benefits of a rocking chair in an
article
published in the Courier Journal.
Cecil quotes
Dr. Heinrich Addleheim of the Kinetic Therapy Clinic in Berlin, Germany, who
says
, "We've seen cases of patients recuperating from heart attack and stroke – without any trace of permanent damage – simply because they used a rocking chair while they were recovering."  
The great thing about a swing chair is that it can suit any design. This means that you can bring it into any space without worrying that it may not match the rest of the design. 
12. Join the Latest Craze with an Outdoor Bar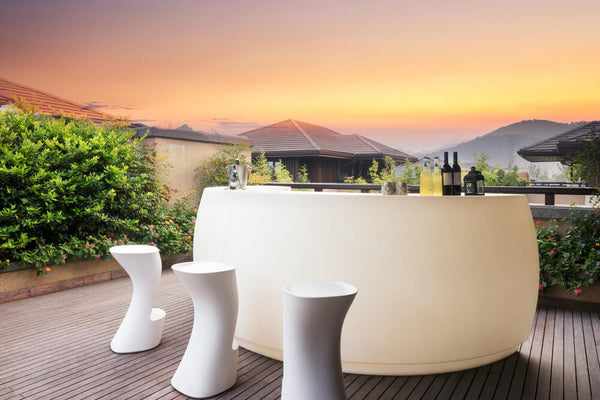 Walk into a home with an outdoor bar, and you will suddenly realize that you need one too. An outdoor bar creates an excellent place to relax as a family or with guests. 
The bar also turns an ordinary home into a sophisticated place. Moreover, if you are ever going to sell or rent out your home, many buyers or renters will like the sound of "the house has an outdoor bar."