Many homeowners are very cautious with their indoor space. This makes them often neglect the patios, backyards, and balconies as they don't put much thought into them. However, an overall excellent home feeling requires investment in all areas of your home.
Balconies are unique places, especially for those living in small apartments. They are that one space where you can relax as you enjoy some sunlight or sky-viewing at night. If big enough, you can have an outdoor kitchen for your barbecue or a small modern garden to your liking.
Before we can jump right into the balcony decoration ideas, let's first mention the significance of a balcony. A balcony space extends the living area of a house. Unlike a home with enough outdoor space, apartments are pretty limited, which is why patios are important. It enhances the overall life quality of the residents in the house.
Different homeowners choose to use their balcony space differently. This often contributes to the balcony décor ideas they come up with. In that indifference, what are the main factors you should look out for when decorating your balcony?
1.Plan Your Space
Planning is crucial to ensure you get precisely what you want on your balcony space. However, planning involves more than just the typical sourcing of ideas; you'll have to do more. Some of the main components of a good balcony décor involve considering your space's;
Function. What purpose would you want your balcony to serve? This is a critical factor as it affects the rest of your decisions. A balcony space might have multiple functions. Some might transform it into an outdoor kitchen, and some might position their dining area, movie spot, garden, chilling place, or much more, depending on the preference. The balcony's purpose is to complement a lacking aspect inside the house.
Style. A style also matters a lot. What will you go with, and how do you plan to match things up? There are different approaches to this, as you can choose to do a modern, classy, relaxed vibe or a customized style. The style often affects the accessories and furniture that you'll bring in as they have to complement the entire theme.
Budget. We cannot fail to mention how vital of role finance play in small balcony décor ideas. This usually proves to be the limiting factor as most homeowners don't intend to spend much on balcony decoration ideas. However, sorting your finances is essential, and it's vital to come up with a reasonable budget. You can always get quality outdoor sectional sofa set at affordable prices here at COSIEST. This will help you achieve your ultimate outdoor space goal on a budget.
2.Make Conversation Zones
It is essential to ensure enough room for people to enjoy your balcony space comfortably. However, this will come down to your purpose for that space. In this case, we will refer to a balcony meant to expand an apartment's living area.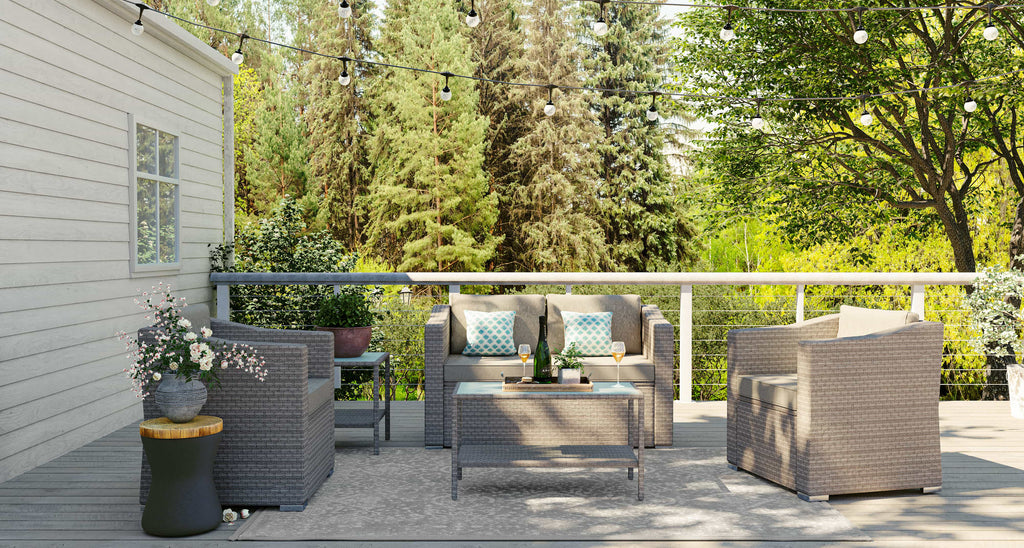 outdoor conversation set for balcony
Sometimes, developers might not give us better deals on a living room as the most selling factors in real estate are the kitchen and the bedrooms. However, you can transform your balcony into a masterpiece and make up for the lost space indoors. You can do this by making conversation zones. But how do you go about this?
Conversation zones are possible with a touch of alignment and the right furniture. You would want to utilize as much space as possible by selecting the best chairs for your space. You can always get good deals from COSIEST for this. You also need to arrange the furniture most appropriately so that people sitting around the area can hold conversations at ease.
These conversation zones should be strategically placed. You should ensure that there's enough comfort for everyone and that there is something that brings everyone together. For instance, if you have a larger space to work with, you can go for a fireplace to be the central point, and everyone else sits around it.
3.Contemplate Traffic Flow
Traffic flow is very crucial in interior design. This is the ability to move smoothly from room to room at ease. A good traffic flow is free from obstacles and with plenty of space to walk through when you want to change locations. But how does this relate to balcony décor ideas? Is it possible to incorporate this into your small balcony decor ideas?
Traffic flow is directly related to the size of your household items and the space you are working with. The positioning of these items should also be considered. You should include enough space for those in and out of the balcony. This prevents multiple movements when someone wants to excuse themselves from the group.
The shapes of your sofas, for instance, if you want to get a set, should provide more space. You don't want to get classy furniture only for it to block your guests' movements around your home. Having such a perfect space will always make your friends want to visit your home for those game nights and catching-up sessions.
4.Get a Coffee Table
So let's get down to your furniture and its usefulness on your balcony. This will entirely depend on the space you're working with, but there are some "fit it all" exceptions—for instance, a coffee table.
A coffee table has multiple functions in an outdoor space, and it should be included in your balcony decoration ideas. The size and design are open for negotiation depending on the area and taste that a homeowner has. However, functionality remains the same.
A coffee table can hold other art pieces such as a vase of flowers, a bowl of artificial fruits, candles, a décor tray, etc. This is for adding that extra beauty to your outdoor space. A coffee table can be your dining table if you don't have one. You can either use it as a central serving point or hold plates of hot meals and glasses of refreshing drinks.
Coffee tables are also ideal for playing board games, especially around the seats. You can play cards, chess, Jenga, snakes and ladders, ludo, spin the bottle, name it – the table can accommodate that. It would be best if you had a coffee table for the multiple purposes that one can serve in your balcony setting.
5.Add Some Lights
Lights complement your outdoor space in many ways. You can't say much during the day, especially in summer, but you must install lighting structures for the nights. There are many light fixtures that you can opt for, and this will depend on the theme that you are trying to achieve.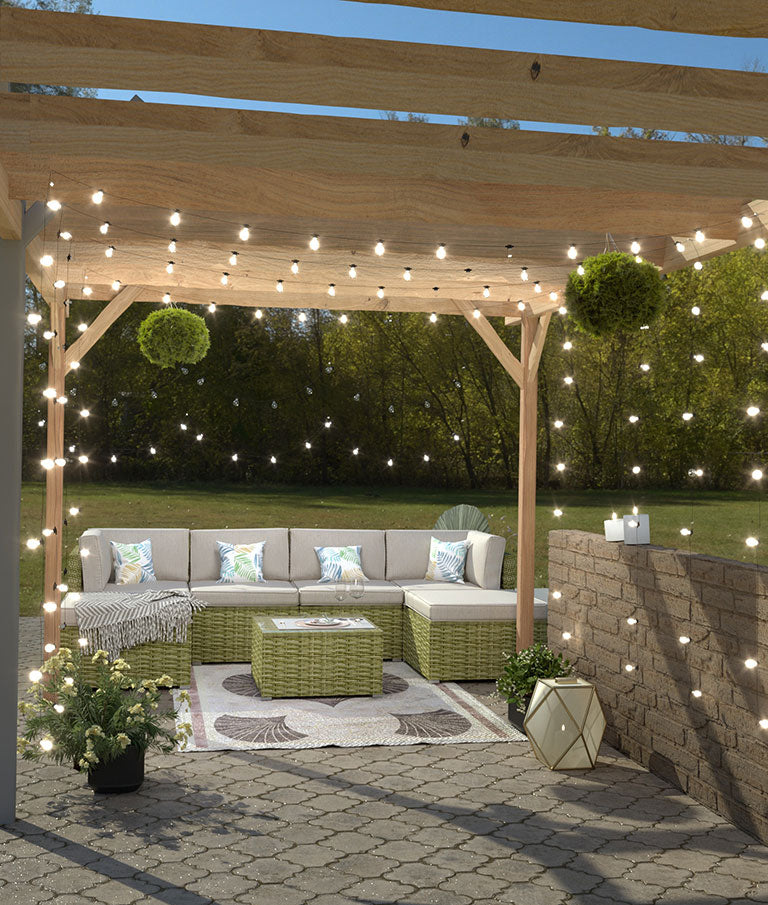 For instance, a large patio will require more lighting. However, if you want to rock a movie night setting, you wouldn't need that much light anyway. Furthermore, lighting fixtures aren't necessary when there is a fireplace, as the fireplace will be the focal point of the outdoor space.
Nonetheless, a little shiny here and twinkling there makes the night feel warmer, and the beer tastes better. You don't want to over-lit your balcony as that bit of darkness is necessary for privacy and comfort, unlike your indoor space. So it would be best if you went for the less bright ones for décor and the flashy ones for security.
Accessories are important. You might not install a flashy chandelier on your balcony, but that electric candle or lamp will come in handy. Where you place your lighting accessories is equally important. You have to do it at the right places, such as where people will eat or play games. The street or natural lights can complement the rest of the space.
6.Try Not to Drive Furniture Against the Walls
Many interior design specialists will give a tip to avoid driving your furniture against the walls. There's nothing that turns customers off than dead space in a house, and many real estate agents know about this selling point. Your outdoor space should be cozy and inviting. You can quickly achieve this by letting your furniture float. Pushing your furniture against the walls will create a weird dead space in the middle which isn't attractive.
Extra Tips
Other than the six main tips on implementing your balcony decoration ideas, there are several other tricks you can add to your books. They include:
Shop smartly for your furniture and accessories

Take measures before drafting a design to know what can fit and what can't

Get rugs for your floors

Complement your seats with cushions and pillows

Install a fire pit if you have the space

Get outdoor plants.
Conclusion
It would be best if you worked to achieve a perfect outdoor space. Balconies are often limited spaces in apartments; getting the right furniture and accessories will transform them into a masterpiece. You should shop wisely and enjoy good deals from suppliers such as COSIEST. Consulting with an expert is vital to making the right decisions for your balcony space.