Your front porch is where you first welcome visitors to your home. The appearance of your porch is a preview of the interior of your home. It is also a comfortable place from which to view your neighborhood, or chat with someone on a warm spring or summer day.
Your porch is a good place to do small crafts such as crocheting or painting, and it is certainly the best place to keep your cashbox and recording notebook if you are holding a yard sale.
Regardless of what you do on your front porch, you will want it to be comfortable, attractive, and easy to maintain. Fortunately, we offer aboundant front porch ideas. There is a wide variety of outdoor seating and other furnishings available that will be perfect for your front porch regardless of its size or general setup. There are even attractive storage units that will be perfect for your favorite front porch activities.
 1. Have front porch seating
A comfortable place to sit is one of the most important things for your front porch. Metal framed rocking chairs with all-weather canvas cushions make an attractive place to relax on warm afternoons, or even on cool mornings as the days move from spring into summer. This is where you can invite someone to chat or you can even discuss arrangements with tradespeople, such as the lawn mowing person, a repairman, or landscaper. Better yet, you can bring your crocheting or painting supplies here, or even your coloring book for your relaxation time. A folding desk or TV tray allows you to have a work surface or simply a place to set drinks and a snack.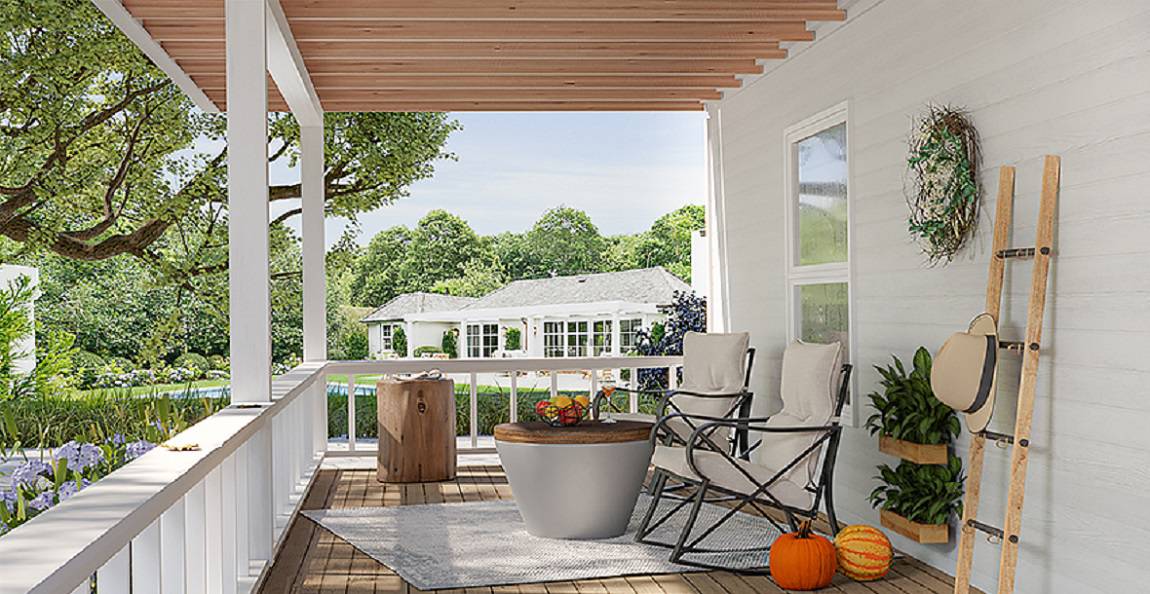 Front porch idea provided by COSIEST
 2. Light up the space
There are so many options for lighting your porch. Citronella candles are a popular selection because they combine evening lighting with repelling those buzzing unwelcome guests. If you want something a little higher tech with a similar dual function, purple bug zapper lights are also an option. With the latter, you might want to consider screening in your porch if it does not violate city or HMO regulations, just to 'screen out' desirable bugs, such as fireflies. Another lighting option is the flexible strips of tube lighting or even decorative seasonal swag lights such as flowers, pumpkins or twinkling stars.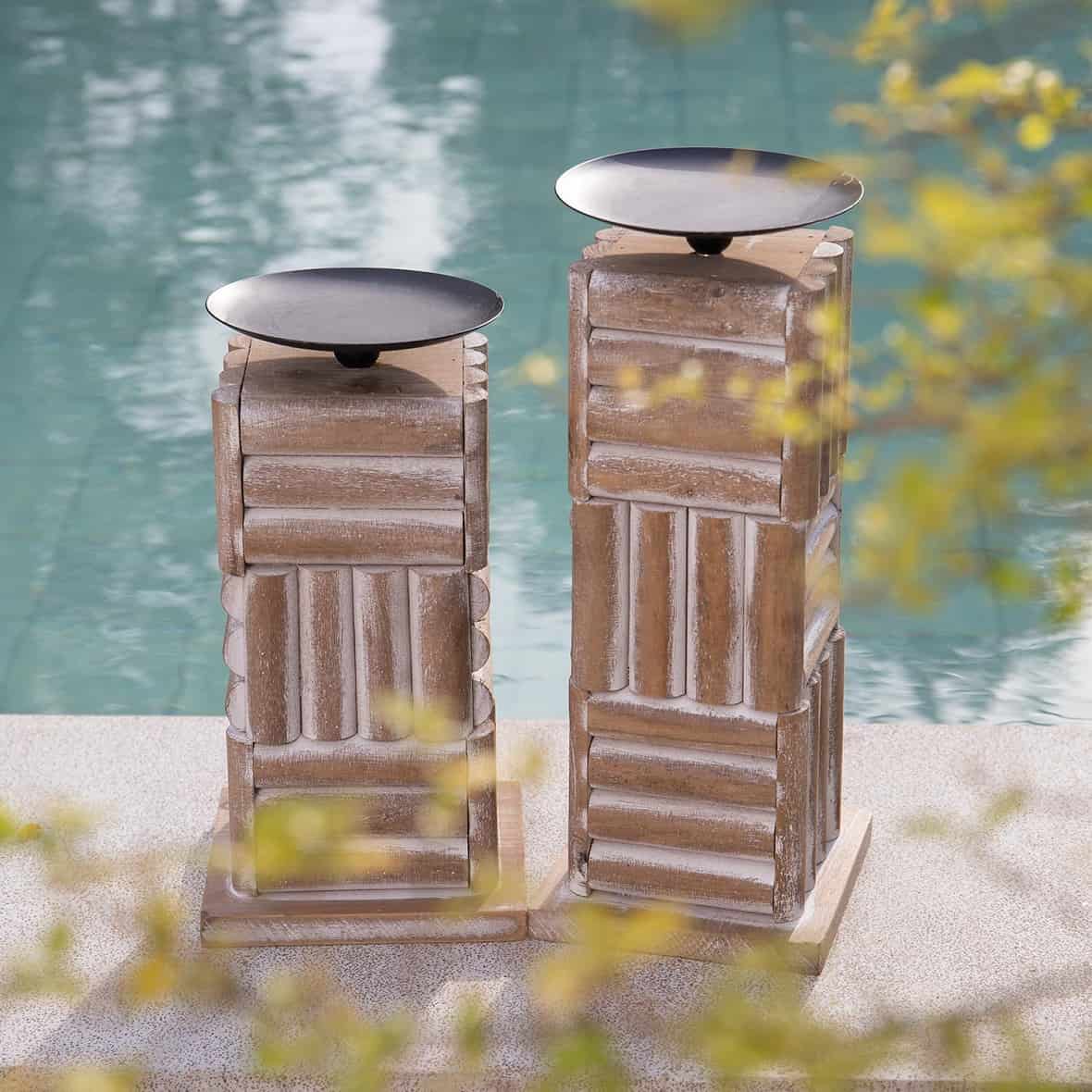 COSIEST Candle Holders create great ambience
 3. Add plants and flowers
Plants and flowers are always a good option for out of door spaces. If you have the resources to do it, hanging plants not only add greenery and color, they increase privacy by providing a lacy screen of greenery. Large pots set on the floor can perform a similar function, especially when combined with lattice work back drops that are perfect for cardinal climbers or moonflowers. If you have a perpetual brown thumb, or if you simply do not have time to care for plants, artificial plants – keep them seasonal – can be substituted for real plants. Even artificial plants are not 100% carefree. They need dusted, hosed down, or even traded out for fresh ones when they become sun faded.
 4. Give some front porch decorations
Front porch decorations can be just about anything you wish, from flowers to wreaths, or ceramic bunnies to wind chimes or wind mobiles. They can make sound, or they can be silent. A huge favorite is a decorative weather center that includes thermometer, barometer, humidity gage, precipitation measure, had wind direction indicator. If you have humming birds or butterflies in your area, combine your porch decorations with humming bird feeders or pots of live plants that are loved by hummers and butterflies. Color and movement add interest to your porch. You've recently cut down a large tree? Save a section of log or two to use as an end table or to support a planter.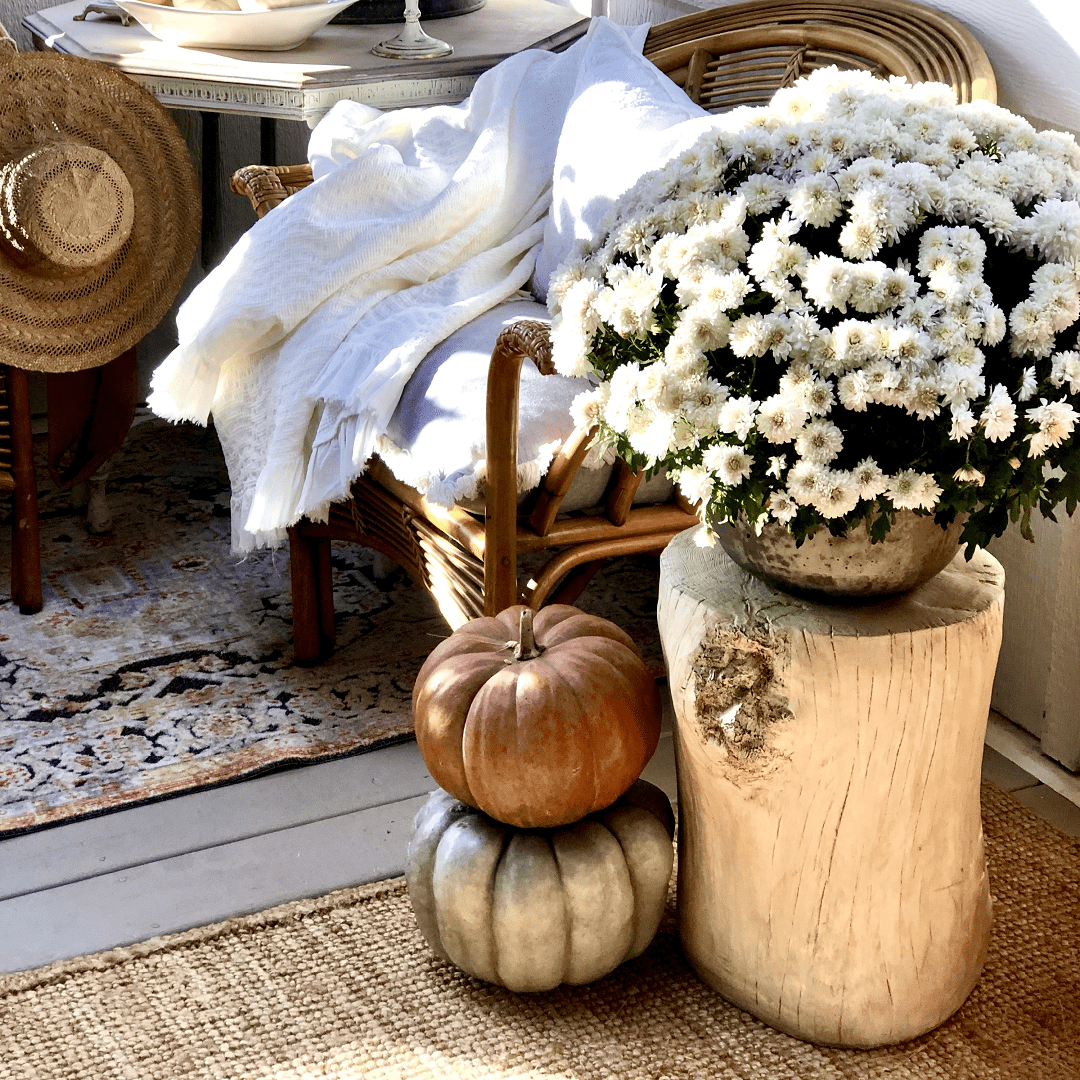 COSIEST decorative side table
 5. Use an entry rug
Think about rolling out the 'red carpet' for friends and visitors by placing an attractive indoor/outdoor rug at your front door. You might even coordinate an outdoor 'living room' rug with your seating arrangement, using it to pull that area together. Mix and match it with a handy welcome match to keep dust and leaves outside your home. It is so much easier to shake out your 'welcome' mat than it is to vacuum up debris from your front hallway. Mats or entry rugs are also a good place to display a fun logo or a charming floral theme.
 6. Mix and match textures
Speaking of mix and match, try linking textures to help tie areas together or to distinguish something special. Wicker is an amazing outdoor choice for this sort of thing since it often includes seating, containers, and even tables. Rustic wood is another good selection for your outdoor spaces, as well a antique metal lawn chairs such as your grandparents might have owned. When it comes to whirligigs and hanging things, you can go with a theme, such as attracting birds, or you can mix up bird feeders, bird houses, wind chimes, and whirligigs – just be careful not to let your selections make your porch too 'busy'. Wick floor mats or indoor/outdoor carpeting is a good way to add color, comfort, and pull an area together.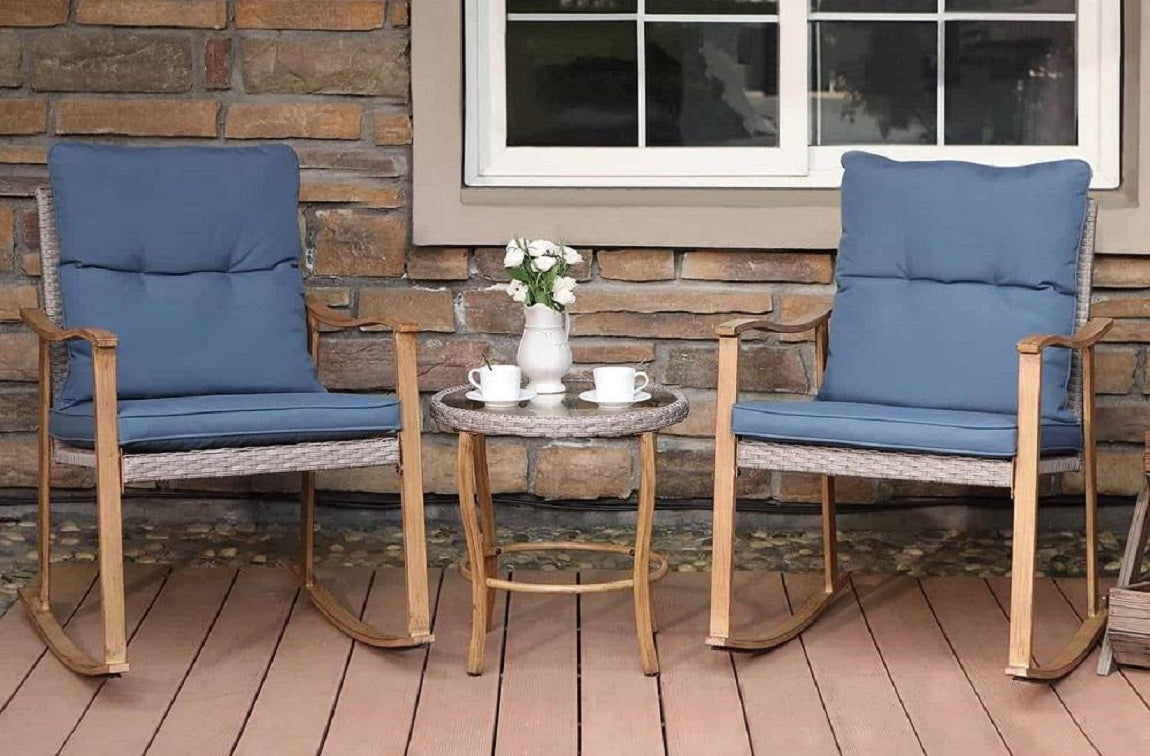 Mix and match wood and wicker textures
 7. Consider decorating in pairs
Decorating in pairs helps tie sections of your porch together. For example, two rocking chairs with neutral canvas upholstery place on a contrasting indoor/outdoor rug make an inviting conversation corner. Two citronella candles in tin pails can be placed on either side of the entry steps, illuminating them and creating a pleasant aroma that might help ward off mosquitoes. Two strawberry jars can be used to create interest in each corner of your front porch, whether they are filled with delicious strawberries or their pockets contain succulents or sweet violets. Two humming bird feeders can provide a splash of color while attracting those fascinating, speedy little birds.
 8. Add Pops of Color
Using neutral colors for the main part of your front porch setting creates the perfect backdrop for pops of color. Beige upholstery can be complimented with bright throw pillows, or draped with a bright shawl. Green vines create a beautiful display, especially when they are adorned with bright blossoms. A summer wreath of sunflowers or zinnias (artificial flowers are a good idea here) draw attention to the center of your front door. Classic planters (even if they are made from plastic or glass reinforced concrete) are frequently white or gray, but the flowers in them can be bright oranges, reds, or yellows. If you prefer a more muted color scheme, try blues and purples instead of the brighter hues.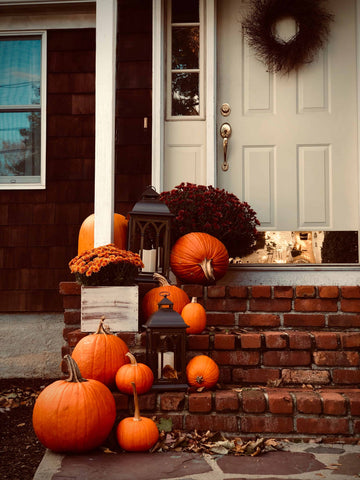 Decorate porch with bright color
 9. Create style 
Your porch, your style. Square cut upholstered furniture (with or without rockers) suggests no nonsense modern. Twig furniture has your décor leaning more toward rustic. Those metal lawn chairs with the bright, colorful seats and backs, will give your porch that 1950s feel. An old fashioned coca-cola advertising sign will complete the feel. Or take your porch forward to the 1960s with a hanging macrame chair, bean bags, and plenty of bright floor cushions. You can even create a futuristic feel with a curved lounge with a bubble cover. Head for the beach with more traditional "gravity" chairs or just plain loungers. Mix and match styles to suit your taste and your comfort. Add decorative touches that match your primary décor, such as a ladder for hanging hats and gloves for a rustic setting, or an elegant row of floating hooks for a futuristic look.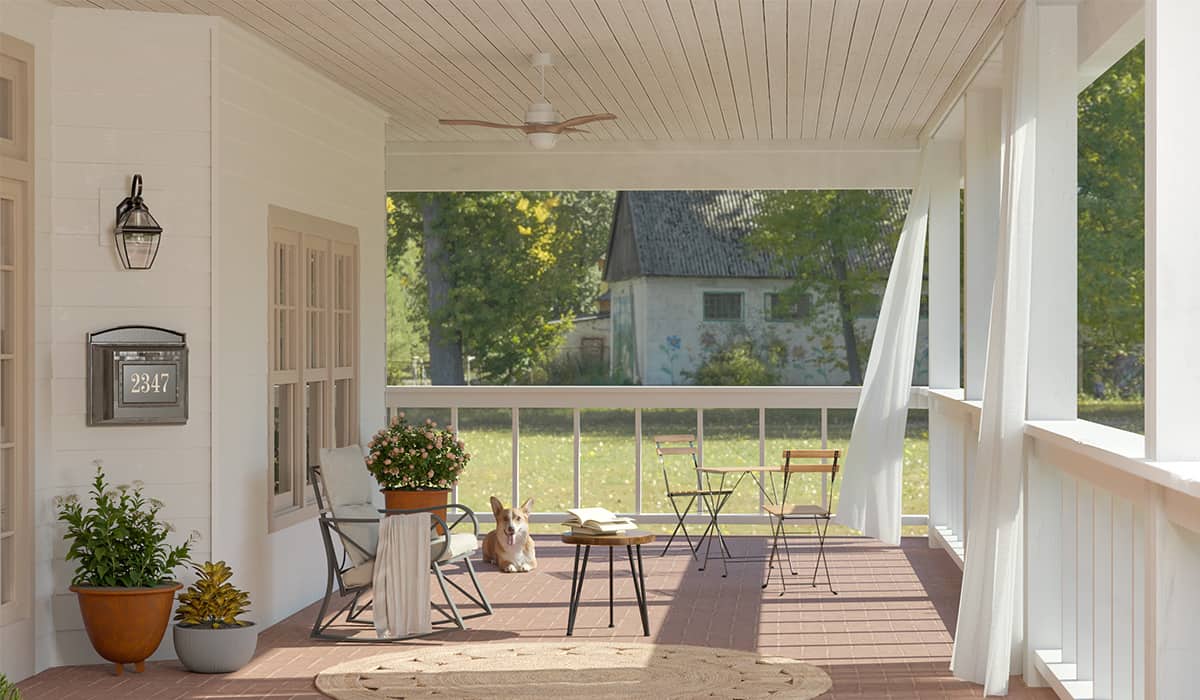 Modern style front porch ideas supplied by COSIEST
 

10. 
A welcome sign
Invite people in (or warn them away) with appropriate door signage. A simple "Welcome" sign is almost always right, but you could also suggest that guests "Speak, Friend, and enter," or "Press button (probably a doorbell) for transport beam." If you have pets who might need restrained, a warning might be in order: "Please wait while we capture the cat." Or "Guarded by fierce attack poodle." If you prefer the non-verbal approach, a pretty wreath gives life to your front door, and is inviting without being ostentatious. Just as a practical note, your front door is a good place to discretely let fire fighters or other emergency workers know that there are pets in your home who might need to be rescued or considered.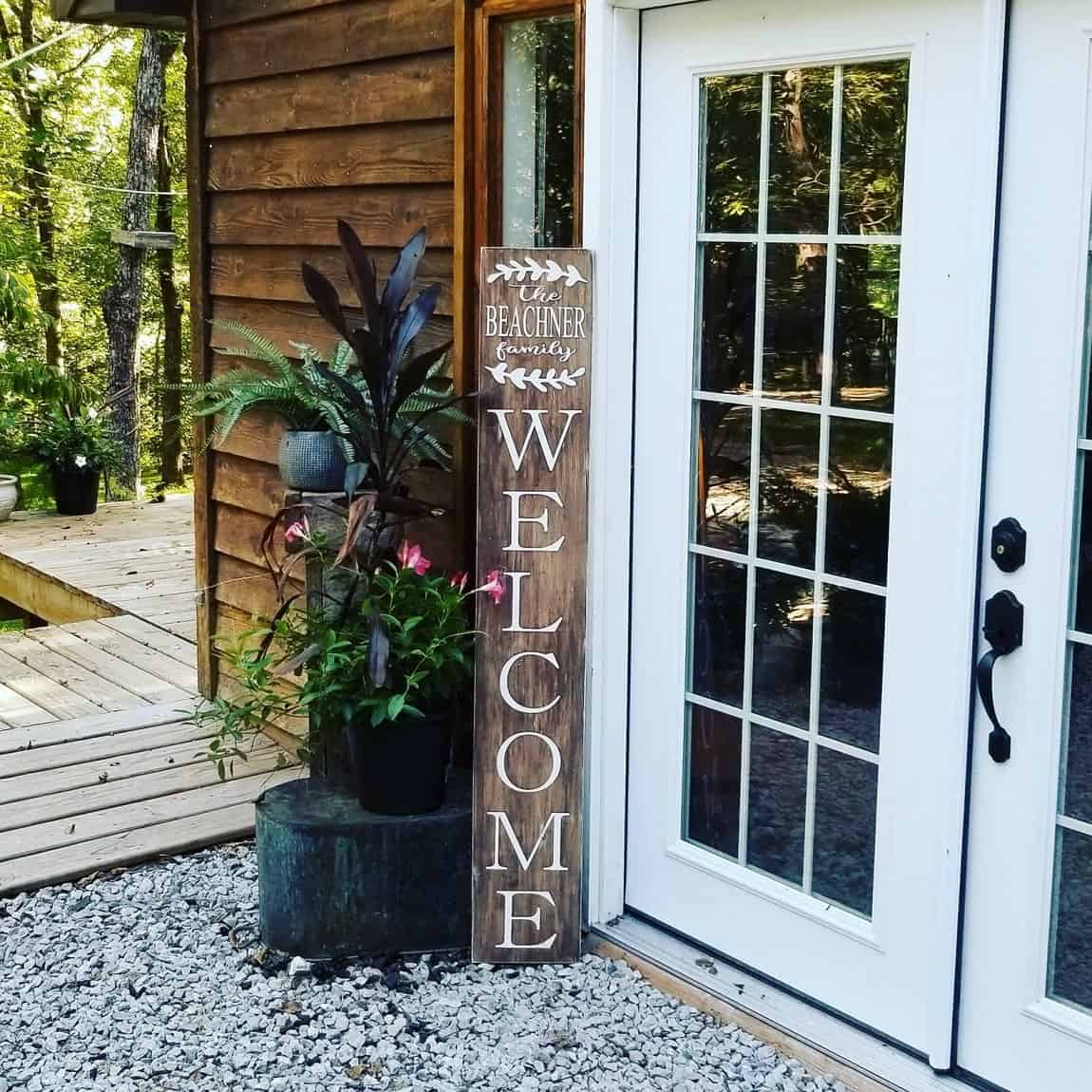 Welcome sign in front of door
 Conclusion
Regardless of the theme you select or the eclectic mixture of porch furnishings, your front porch is your first chance to make an impression on your neighborhood. Whether you like something simple and conservative, the look of a rustic retreat, or the simple invitation of a comfortable place to sit in the shade and visit, your front porch can be that invitation. If you are unsure of your direction, begin with one piece that you really like, and slowly build accessories from there. A good example might be a pair of metal tube rocking patio chairs with a simple beige upholstery. Add colorful pillows, a beautiful rug, some plants, and that decorative ladder to hang your hat on.