Did you know that the U.S. is the number 1 trash-producing country globally, with each citizen generating 1,609 pounds of waste annually? The University of Southern Indiana puts things into perspective when it concludes that "This means that 5% of the world's people generate 40% of the world's waste." 
We have a waste challenge that needs to be solved. The good news is that this is a challenge we can solve if we work together to upcycle instead of throwing away stuff we no longer need.
But how do I get started upcycling? This is the question we want to answer in this article. We provide some ideas of how you can upcycle household items to decorate and add personality to your outdoors. 
What Is Upcycling? 
Most of us have heard about recycling, but upcycling is not a concept that many are familiar with. Their difference is, recycling breaks down an item before its components are reused. On the other hand, upcycling creatively reuses the materials, giving them a second function and life. Upcycle That, a website dedicated to providing upcycling ideas and inspiration, says, "Upcycling is taking something that's considered waste and re-purposing it."
The website adds that "The upcycled item often becomes more functional or beautiful than what it previously was." The same source says that the process is called upcycling because it increases the value of the item. 
Apart from increasing value, upcycling and repurposing items helps the environment by reducing waste in landfills. It also reduces greenhouse gas emissions because fewer goods are manufactured when people reuse old items for new roles.  
Let's now look at some cool, easy, and fun upcycling ideas for your outdoor space. 
1. Turn a Wine Bottle into Outdoor Pendant Lights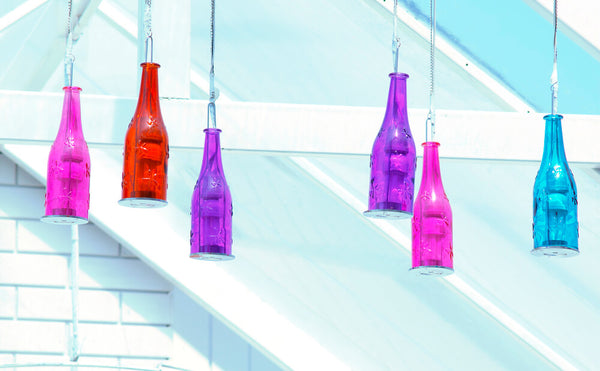 Turn a Wine Bottle into Outdoor Pendant Lights
Drinking a little with families at leisure would be a great enjoyment in our life. But what do you do with all those wine bootless when the last drop of wine is out? You create outdoor pendant lights for the covered parts of your patio: 
LivinSpaces, an online architecture and design website, lists some of the items you will need to create the wine bottle lights: 
Empty wine bottle, label removed

Acetone

Cotton wick

Scissors

Lighter or match

Ice water

Sandpaper

Hanging light bulb socket

Light bulb

Cork (optional)
They are all common seen tools and materials that easily to access. You'll get extra DIY pleasure as well as save environment from the waste.
2. Create a Garden Goodie with a Chest Of Drawers
With a bit of creativity, furniture upcycling can turn any old piece of furniture into a beautiful item. The great thing about a chest of drawers is that you don't need to do much work to repurpose it. 
To create the garden in drawers, start by sealing the drawers with a clear sealant so that the wood doesn't start rotting when you water the plants.
3. Plant in Old Seats 
Plant in Old Seat
Check the clutter in any home, and you are likely to find an old seat among it. It can be a challenge to find new roles for an old seat that is no longer useful. However, with a bit of creativeness, you can turn your old seat into a planter that can improve your outdoor space. Chairs with wicker, wood, and iron element can even add a little rustic style for your outdoor space.
Likewise, obsolete seats or stools can be the best replacement of flower stands. The overall effect will exceed your expectation.
4. Use an Old Ladder to Display Anything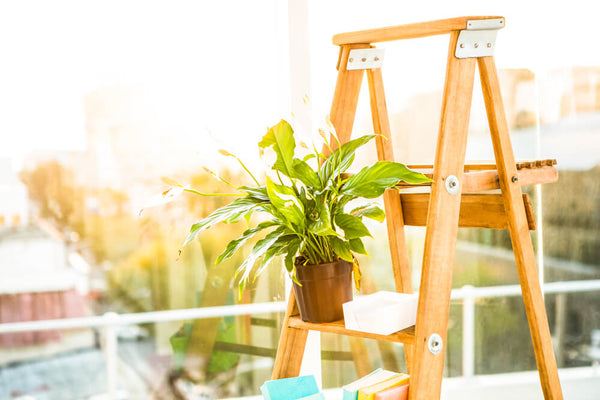 An Old Ladder to Display Anything
Using an old domestic ladder that hasn't been maintained well is not always a good idea. Seniors are also usually advised to stay off ladders for their own safety. But it doesn't mean you have to throw away your old ladder. It has another hidden function: you can use it to display things.
Published by LittleThings.com, Phil Mutz shares some creative ladder upcycling ideas. Mutz shows that you can repurpose your old ladder into a shelf for storing books, a coat hanger rail, or hanging lanterns on your front porch. 
5. Build a Mini Fire Pit in a Flower Pot 
A Mini Fire Pit in a Flower Pot 
Add additional patio equipment with a shoestring budget is difficult. However, if you have some flower pots, you can create a mini fire pit in a plant pot but save a lot.
Lee Wallender writes for a decorating and gardening online magazine. In his piece, he suggests 10 creative DIY ideas for backyard fire pits. One of the ideas involves a DIY fire pit that you can mold from a container like a plant pot or an urn.
To raise the mini fire pit, you can place it on a concrete Hexagon Side Table in the patio. 
6. Transform a Dresser into a Potting Bench with a Sink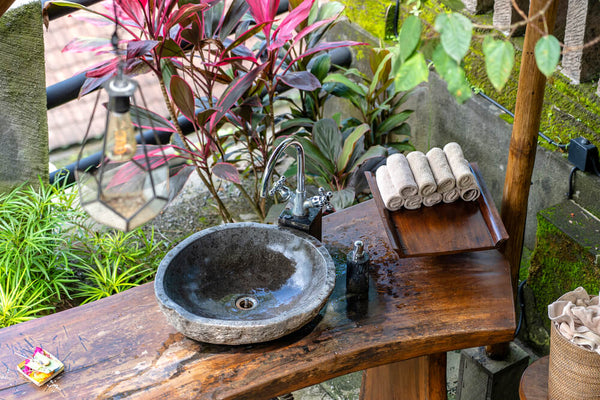 Transform a Dresser into a Potting Bench with a Sink 
Covid-19 has taught us the importance of washing our hands all the time. If you are hosting family and friends outdoors, you would want to ensure that there is a place where people can wash their hands whenever they need to. 
If you have an old dresser sitting in your garage, it's time to give it a new life as a potting bench with a sink. Potting bench is appropriate as a counter top to put these things on.
7. Make Stylish Outdoor Seating with Pallets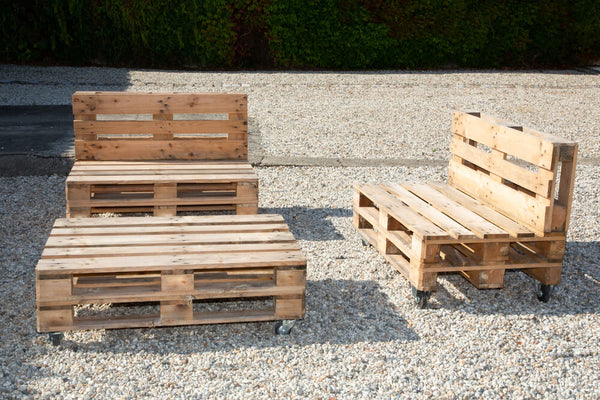 Stylish Outdoor Seating with Pallets
If you don't believe that outdoor seating doesn't need to be expensive, you probably haven't seen old pallets that have been creatively used. The advantage of manually upcycling pallets is that they are very easy to work with. 
Brian Patrick Flynn produced an article published by HGTV. He offers some stylish outdoor pallet seating ideas. He suggests that pallet seating can "Bring rustic, repurposed charm to your deck or porch." 
Flynn also presents a step-by-step process for creating pallet seating. Add class to the patio where you place these seats with a Dinosaur Wall Hanging Decor.  
8. Transform Old Kitchen Utensils into Mini Herb Gardens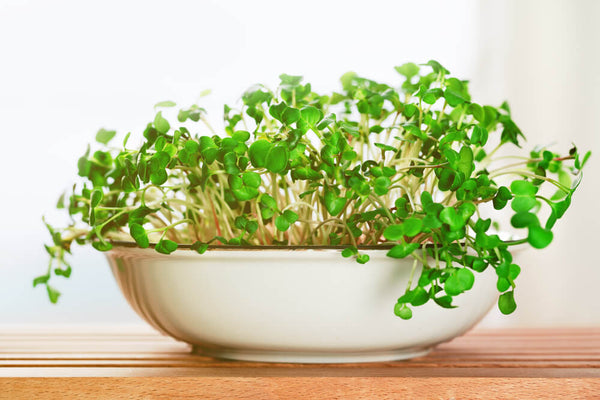 Old Kitchen Utensils into Mini Herb Gardens
While some kitchen utensils may last several generations, many have to be replaced regularly. For example, your nonstick pots and pans will need to be retired once they have scratches and food starts to stick. However, you could give these utensils a new life as mini herb gardens. 
For example, a used tea cup can be turned into a bird feeder in your patio. Or mini flower pots are also good ideas. Kitchen utensils plus old dishes are great patio decorations.
A stylish Hand Shape Side Table can provide an excellent place for the mini herb garden. 
9. Let Bicycles Stand on a Transformed Crib Rail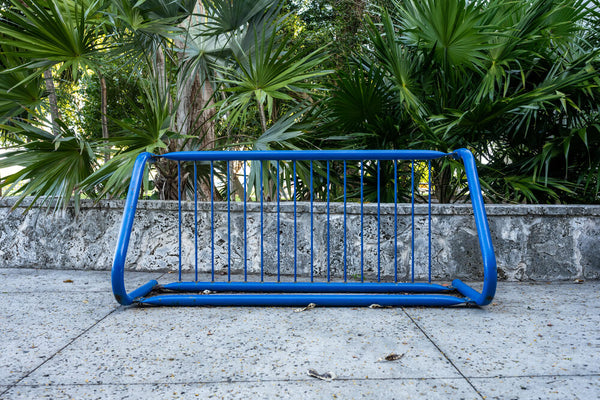 Bicycles Stand on a Transformed Crib Rail
What do you do with crib rails once all your children are too old to sleep on a crib and you know you will never have another child? Many people faced with this question often delay making a decision and just leave the rails lying somewhere in the home. 
Remember, anything unused and gathering dust around your home is clutter. HGTV has a solution: turn a crib rail into a bicycle stand. Hgtv.com lists the materials, tools, and steps for turning the crib rail into a neat bicycle stand. 
10. Create a Stunning Plant Holder with Road Tires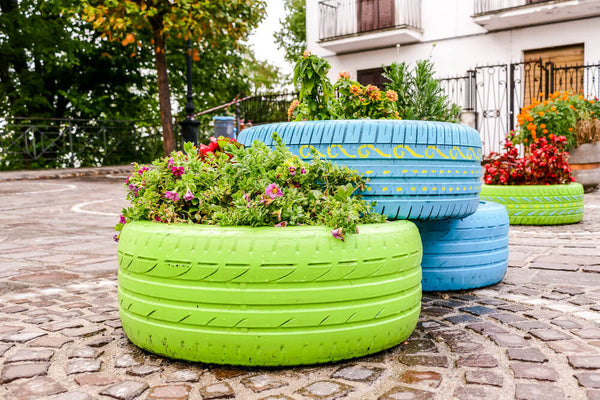 Stunning Plant Holder with Road Tires
In the United States alone, 246 million tires will form part of the waste this year. Because tires have a complicated mix of ingredients, they are challenging to dispose of safely. If each person getting rid of a tire upcycled, the problem would not be as bad. 
Tires are pretty easy to upcycle. In most cases, all you need is paint and a brush to transform the tire from dull black to something attractive. You can hang a nicely painted tire to a tree and plant flowers in it. 
Tips for Upcycling
Now that you have some fun upcycling ideas to start with, let's look at some tips to make the process even more enjoyable: 
Carefully select materials based on where you want to place the upcycled item. For instance, wood would need to stay in a covered place. 

Start small to build up your confidence.  

Consider your existing outdoor theme so that the new items you create match it. 

Get essential DIY tools like paintbrushes, a hammer, screwdriver, jigsaw, drill, sander, nails, and gloves. 

Take risks and experiment with colors. 
Once you get used to upcycling, you will begin to see potential in almost everything you look at. Remember to take your time and be patient, as coming up with a great upcycled product is often a labor of love rather than a task that you do solely for practical purposes.